Too-Smart Phones.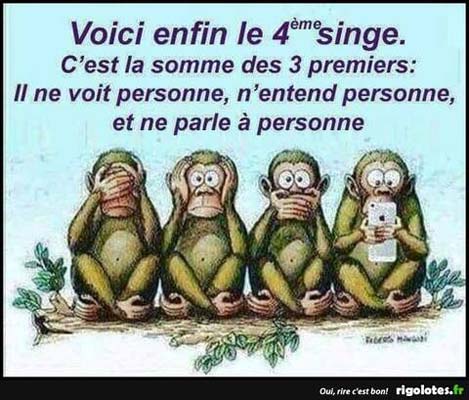 Voici le truc: rendre aujourd'hui attractif, indispensable, ce que demain sera considéré obligatoire...

Sucker Bait: a lure (such as the promise of easy money or some other benefit) to attract a person to be swindled...
---
Here's what toes get stomped if Elon Musk goes his own way with Teslaphone plus OS… (Aristophanes Athenaeum - TreadReader - 29/11/2022)
Massachusetts Department of Public Health coordinated with Google to secretly install COVID 'spyware' onto 1 million phones, lawsuits says. (Paul Sacca - The Blaze - 17/11/2022)
Abus d'écran : les enfants développent une maladie oculaire de seniors. (FranceSoir - 20/10/2022)
ALERTE : Macron prolonge abusivement la surveillance généralisée de nos téléphones. (FranceSoir - 18/10/2022)
Des smartphones low tech contre le pouvoir des Big Tech. (FranceSoir - 2/10/2022)
The Smartphone's Role In Dumbing Down America. (Bruce Wilds/The Advancing Time Blog - Tyler Durden/Zero Hedge - 24/9/2022)
Data Broker Helps Police See Everywhere You've Been with the Click of a Mouse: EFF Investigation Fog Data Science sells local police cheap access to a massive digital dragnet without well-defined rules. (The Electronic Frontier Foundation - 1/9/2022)
Here Is the Manual for the Mass Surveillance Tool Cops Use to Track Phones Police departments across the U.S. have been using Fog Reveal for 'mass surveillance on a budget,' investigations by the EFF and Associated Press revealed. Now, we're publishing the manual. (Joseph Cox - MotherBoard - 1/9/2022)
Legality questioned of mass-surveillance tool that warrantlessly tracks US citizens and their 'patterns of life'. (Joseph Mackinnon - The Blaze - 1/9/2022) -> regarding the Fog Reveal app...
Bank Terminates Client's Account After He Complains About Rainbow-Themed App. (Protestia - 27/8/2022)
FTC files lawsuit against data broker for allegedly selling sensitive location-tracking information, including church and health clinic visits. (Candace Hathaway - The Blaze - 29/8/2022)
Meta settles location tracking lawsuit for $37.5 million. (Candace Hathaway - The Blaze - 23/8/2022)
"They Can Do Audio, Video, & Physical Surveillance on You 24H/365D a Year": Rex Lee on Intrusive Apps. (Tyler Durden - Zero Hedge - 14/8/2022)
Leaked NSO Group Presentation Details Malware's Ability to Turn on Cameras, Mics to Surveil Targets. (Tim Cushing - TechDirt - 12/8/2022)
Trudeau's intelligence agencies spying on politicians, opposition MP says Conservative MP Martin Shields is ringing the alarm bells after it was revealed that the RCMP and Trudeau's other intelligence agencies are using spyware to spy on elected officials. (Kenan Bexte - The Counter Signal - 10/8/2022)
The Smartphone's Role In Dumbing Down America. (Bruce Wilds - Advancing Time - 6/8/2022)
TikTok Confirms Employees in China Can Access American User Data. (Lucas Nolan - Breitbart - 4/7/2022)
RCMP admits they hack Canadians' devices to spy on them. (Keean Bexte - The Counter Signal - 29/6/2022) -> In a breathtaking admission, the RCMP say they've secretly used spyware on Canadians' devices to get audio and visual recordings of Canadians without their knowledge.
Always fresh, Always tracked: Tim Hortons tracked Canadians. (Thomas Lambert - The Counter Signal - 2/6/2022)
The Collapse of Teen Mental Health — And Deadly Mass Shootings — Can Be Traced to One Single Trend. (Dylan Housman - Daily Caller - 27/5/2022)
Health Authorities Tracked Movements of Canadians via Cellphones During Pandemic PHAC claims data was anonymized. (Paul Joseph Watson - Summit News - 9/5/2022)
How To Make Sure Your Phone Isn't Keeping Recordings of Everything You Say: If you're not careful, Amazon's Alexa, Apple's Siri and Google's Assistant may be saving your every word. Here's how to delete that personal data. (David Nield - Gizmodo - 18/3/2022)
87% of Canadians had their cellphone location data secretly accessed by Public Health Canada to monitor their movement during the pandemic. (Rebel News - Twitter - 14/1/2022)
Le gouvernement Canadien aurait espionné 33 millions d'appareils mobiles de citoyens durant les confinements. (Cosmin Dzsurdzsa - Québec Nouvelles - 27/12/2021)
Canadians should have "zero trust" after feds spied on 33M devices: privacy expert. (Cosmin Dzsurdzsa - True North - 22/12/2021)
Canadian gov't used cell phone towers to spy on more than 33 million citizens during COVID The Public Health Agency of Canada (PHAC) claimed the tracking was done to understand the 'public's responsiveness during lockdown measures.' (Anthony Murdoch - LifeSite - 22/12/2021)
Company That Routes Billions of Text Messages Quietly Says It Was Hacked Syniverse handles billions of text messages a year, and hackers had unauthorized access to its system for years. (Lorenzo Franceschi-Bicchierai - MotherBoard - 4/10/2021)
Apple Wants Future iPhones to Read Your Face to Decide if You Are Depressed. (Lucas Nolan - Breitbart - 21/9/2021)
Law Enforcement Agencies Are Now Buying Personal Cell Phone Data From Commercial Brokers Without Warrants. (Tyler Durden - Zero Hedge - 16/9/2021)
"This Is About Control, Not Children": Eric Weinstein Calls Out Apple's Virtuous Pedo-Hunter Act. (Tyler Durden - Zero Hedge - 8/8/2021)
Are The Tech Giants Afraid of Something? (Allum Bokhari - Breitbart - 6/8/2021)
'Privacy Company' Apple Plans to Monitor All US iPhones For Evidence of Child Porn. (Tyler Durden - Zero Hedge - 5/8/2021)
Google Accused of 'Force-installing' COVID Tracking App on Phones "Force-installed with no authorization or approval. App is hidden on the device to prevent uninstallation." (Steve Watson - Summit News - 22/6/2021)
Court Documents: Google Makes It Almost Impossible for Users to Keep Their Location Private. (Lucas Nolan - Breitbart - 31/5/2021)
Google accusé de tracer la localisation de ses utilisateurs même lorsque la fonction est désactivée. (Victor Koulakov - Sputnik News - 30/5/2021)
Contact Tracing System Breach Compromises Private Info of 72,000. (Ashley Carnahan - Daily Caller - 29/4/2021)
Beware the post-Covid surveillance state Like the viruses they're meant to fight, apps are mutating when no one's looking. (Peter Franklin - UnHerd - 29/4/2021)
Metadata: The Digital Fingerprint You Had No Idea Is Attached To Every Photo You Take. (Tyler Durden - Zero Hedge - 28/3/2021)


"I Remove It Before Using The Phone!" Edward Snowden
(BrainStation - YouTube - 8 minutes - 11/3/2021)

Gun Trafficking Investigation Shows The FBI Is Still Capable Of Accessing Communications on Encrypted Devices. (Tim Cushing - TechDirt - 11/2/2021)
Enforce quarantine by tracking phones, says Sage. (Chris Smyth - The Times - 8/2/2021)
The cancellation of Parler: Apparently any free-speech alternative to Big Tech can and will be crushed. (Tom Slater Spiked - 11/1/2021)
Smartphone Apps Under Development For Global Vaccine Passport. (Dr. Joseph Mercola - Technocracy - 5/1/2021)
A Major Wireless Network Flaw is Still Being Exploited to Track User Locations. (Karl Bode - TechDirt - 23/12/2020)
Report Alleges China's 'Mass Surveillance' of Americans Using Caribbean Cell Networks. (Tyler Durden - Zero Hedge - 16/12/2020)
Google Sued For Data Costs After Android Phones Found Transferring "Unapproved, Undisclosed" Data. (Tyler Durden - Zero Hedge - 16/11/2020)
College to use tracking device that notifies officials if students leave school's 'COVID-bubble': Violators may be temporarily suspended (Dave Urbanski - The Blaze - 19/8/2020)
After students balk at demand to wear 'BioButton' health-monitoring device, university backs down. (Charles Hilu - College Fix - 14/8/2020)
Therapy App Eavesdropped on Private Client Sessions. (Lucas Nolan - Breitbart - 11/8/2020)
Rollout of Canada's 'COVID Alert' app criticized over download requirements: The app requires users to have Apple or Android phones made in the last five years, and a relatively new operating system. (Nick Wells - National Post - 3/8/2020)
Google might be 'spying' on you to find the next WhatsApp. (Chris Smith - BGR - 26/7/2020)
StopCovid : La CNIL pointe des manquements et met en demeure le ministère de la Santé. (Evangéliques du Bas-Rhin - 23/7/2020)
Mobile banking apps could be major security threat, says FBI. (Anthony Spadafora - TechRadarPro - 11/6/2020)
Progressives Are Tracking the Smartphone Location Data of Lockdown Protesters. (Allum Bokhari - Breitbart - 19/5/2020)
Beware the Lofty Promises of Covid-19 'Tracker' Apps: A popular symptom-tracking app made a splash for its surprising discoveries. But a deeper look at the data calls those findings into question. (Kaiser Fung - Wired - 13/5/2020)
Senator Wyden Wants Congress to Investigate Which Local Cops Have Hacking Tools: The move comes after Motherboard found the U.S. branch of NSO Group pitched hacking tech to American police. (Joseph Cox - MotherBoard - 13/5/2020)
Report: Chinese Smartphone Company Xiaomi Spying on Users' Every Move. (Lucas Nolan - Breitbart - 2/5/2020)
Coronavirus: Apple-Google Contact Tracing Tech Picks Up Steam as Germany Buys In. (Lucas Nolan - Breitbart - 27/4/2020)
Privacy Experts: Google and Apple's Chinese Virus Tracing Technology Could Be Abused. (Lucas Nolan - Breitbart - 17/4/2020)
Apple et Google vont vous tracer. (Bladi.net - 12/4/2020)
Apple, Google Join Forces to Create Free Tools For Coronavirus Tracking. (Tim Cushing - TechDirt - 10/4/2020)
Orange recycle son service de géolocalisation pour la pandémie. (La Quadrature du net - 28/3/2020)
Pour lutter contre le coronavirus, faut-il nous traquer via nos smartphones ? (Cédric Ingrand - LCI - 24/3/2020)
Whoops, Twitter The Latest To Use Two Factor Authentication Phone Numbers For Marketing. (Karl Bode - TechDirt - 10/10/2019)
NYPD Used Reverse Warrants to Round up Proud Boys Members Suspected of Beating Antifa Members. (Tim Cushing - TechDirt 16/8/2019)
So what can FaceApp do with your 150 million faces? (Osmond Chia - Slash Gear - 21/7/2019)
There's Something Troubling In Viral App FaceApp's "Terms Of Use" You Should Know. (Amanda Prestigiacomo - DailyWire - 17/7/2019)
Russian Spy Discovers The Hard Way How Much His Smartphone's Metadata Reveals About His Activities. (Glyn Moody - TechDirt - 16/7/2019)
Hackers Have Been Stealing User Data From Global Cell Networks Since 2012. (Karl Bode - TechDirt - 27/6/2019)
Google Exec Finally Admits to Congress That They're Tracking Us Even with 'Location' Turned Off. (Paula Bolyard - PJMedia - 12/3/2019)
Many popular iPhone apps secretly record your screen without asking: And there's no way a user would know. (Zack Whittaker - TechCrunch - 6/2/2019)
Report: Cellphone companies are still selling customers' location data and lawmakers want to know why: Can easily fall into hands of criminals, stalkers, report says. (Teri Webster The Blaze - 12/1/2019)
I Gave a Bounty Hunter $300. Then He Located Our Phone. (Joseph Cox - MotherBoard - 8/1/2019)
See if You're Using These Popular Android Apps That Overshare Info to Facebook. (Emily Price - LifeHacker - 31/12/2018)
Free Market Accountability - Google Knows Where You Sleep: It has the makings of a stalker. (Mytheos Holt - The Spectator - 1/12/2018)
Apps You Use Every Day Are Tracking Your Every Move, According to Very Creepy Report. (Victoria Song - Gizmodo - 10/12/2018)
Google Tracks Your Location Even When You Explicitly Tell It Not To. (Niamh Harris - News Punch - 13/8/2018)
Facebook seeks patent on tech that turns on your smartphone microphone. (Jack Morse - Mashable - 27/6/2018)
Apple Tries to Stop Developers From Sharing Data on Users' Friends. (Sarah Frier & Mark Gurman - Bloomberg - 12/6/2018)
Wireless Carrier Abuse of Location Data Makes The Facebook, Cambridge Scandal Look Like Amateur Hour. (Karl Bode - TechDirt - 25/5/2018)
Are Smart Phones an IQ and Creativity Downgrade, with Anti-Social Bonus Points? (Diglloyd - 15/5/2018)
NSA admits to collecting more than 534 million phone calls and text messages from Americans last year. (Teri Webster - The Blaze - 5/5/2018)
Even AccuWeather is spying on you now: Tracked consumers 'who had expressly opted out of location tracking'. (Bob Unruh - WND - 3/4/2018)
Cops Wanting to Track Movements of Hundreds of People Are Turning To Google For Location Records. (Tim Cushing - TechDirt - 19/1/2018)
Facebook's New 'Onavo Protect' VPN is a Spyware App. (Joel Hruska - ExtremeTech - 14/2/2018)
Apple announces effortless solution bringing health records to iPhone: Health Records Brings Together Hospitals, Clinics and the Existing Health App to Give a Fuller Snapshot of Health. (Apple - 24/1/2018) [Blind Trust: give all your health data to Apple]
Apple is sharing your face with apps. That's a new privacy worry. (Geoffrey A. Fowler - The Washkington Post - 30/11/2017)
Android Users: Google's Collecting Your Location Data Whether You Like it Or Not. (Patrick Lucas Austin - LifeHacker - 21/11/2017)
Google collects Android users' locations even when location services are disabled. (Keith Collins - Quartz - 21/11/2017)
Smartphones have turned us into tech-addicted zombies. Here's why we should ban them for kids. (Steve Hilton - FoxNews - 11/11/2017)
iOS Camera Permission Lets Apps Take Photos Without Telling You. (Ryan Whitwam - ExtremeTech - 30/10/2017)
How to Stop iOS Apps From Secretly Spying Through Your Camera. (Patrick Lucas Austin - LifeHacker - 26/10/2017)
How the KRACK attack destroys nearly all Wi-Fi security: Android 6.0 hit especially hard, but all devices are vulnerable. (Sean Gallagher - Ars Technica - 16/10/2017)
Mobile Phone Companies Sell your Name and Location Data. (Lloyd CHambers - 16/10/2017)
Big Brother dans votre smartphone. (Paroles de Dieu - 18/9/2017)
The five biggest questions about Apple's new facial recognition system: Can police use facial recognition to unlock your phone? (Russell Brandom - The Verge - 12/9/2017)
Hackers Using Phone Numbers to Reach Online Accounts. (NewsMax - 21/8/2017)
iOS 11's blue bar will shame apps that overzealously access your location. (Sarah Perez - TechCrunch - 26/6/2017)
Fifth Circuit Says No Warrants Needed To Obtain Near-Real Time Cell Site Location Info. (Tim Cushing - TechDirt - 31/5/2017)
Researchers Find 234 Android Apps That Track You (Poorly) With Ultrasonic Waves. (Ryan Whitwam - ExtremeTech - 5/5/2017)
Google Maps Supercharges Location Sharing, Begins Drooling Over Your Data. (Aarian Marshall - WIRED - 22/3/2017)
Is your smartphone listening to you? Why your conversations might not be as private as you think. (Stephen Armstrong - The Telegraph - 12/3/2017)
MAC randomization: A massive failure that leaves iPhones, Android mobes open to tracking: Security flaws smash worthless privacy protection. (Thomas Claburn - The Register - 10/3/2017)
Apple iPhone Secretly Uploading Call Logs when iCloud is Enabled? (Lloyd Chambers NewsBlog - 18/1/2017)
Apple Uploading Call Data, Including From Third-Party Call Apps, To Users' iCloud Accounts. (Tim Cushing - TechDirt - 17/11/2016)
Teenagers 'checking mobile phones in night'. (Katherine Sellgren - BBC News - 6/10/2016)
Google backs off on previously announced Allo privacy feature: The app will log conversations by default after all. (Russell Brandom - The Verge - 21/9/2016)
'It Looks Like You're Trying To Harvest Cell Phone Data...:' Quick-Start Guides For IMSI Catchers Leaked. (Tim Cushing - TechDirt - 21/9/2016)
University Tracks Students' Movements Using WiFi, But Says It's OK Because It's Not Tracking Students. (Glyn Moody - TechDirt - 16/8/2016)
Apple exec reveals how your iPhone data is used to improve Maps. (Buster Hein - Cult of Mac - 10/8/2016)
FBI Still Wants Encryption Compromise Where None is Possible. (Bryan Chaffin - MacObserver - 2/8/2016)
Why hackers love health apps: Most health apps don't have good privacy or security safeguards. (Xuanyan Ouyang - MacWorld - 26/7/2016)
New Apple Patent Could Stop You From Taking Photos and Videos at Concerts. (Royel Edwards - Gizmodo - 28/6/2016)
How Technology is Hijacking Your Mind from a Magician and Google Design Ethicist. (Tristan Harris - Thrive Global - 18/5/2016)
NSA spying through Angry Birds, Google Maps, leaked documents reportedly reveal. (Fox News - 27/2/2014)
Silverpush Stops Using Sneaky, Inaudible TV Audio Tracking Beacons After FTC Warning. (Karl Bode - TechDirt - 13/4/2016)
If FBI Can Get Into A Device Running iOS 9, Why Does It Say It Still Needs Apple's Help To Get Into One Running iOS 7? (TechDirt - Mike Masnick - 29/3/2016)
Owning a cell phone doesn't mean consenting to police tracking: Maryland Court. (Joel Hruska - ExtremeTech - 93/2016)
Maryland court bars evidence from cellphone tracking device: Use of warrantless technology limited. (Andrea Noble - The Washington Times 9/3/2016)
Alternate Titles: Apple Now Looking To Close The Backdoor The FBI Discovered. (Mike Masnick - TechDirt - 25/2/2016)
No, The FBI Does Not 'Need' The Info On Farook's iPhone; This Is Entirely About The Precedent. (TechDirt - Mike Masnick - 22/2/2016)
NYPD has used cell tracking technology 1,000 times since '08. (Colleen Long - The Washington TImes - 11/2/20016)
Prosecutors Argue Cell Site Location Data Is Something Every User Shares With 'The Rest Of The World'. (TechDirt - Tim Cushing - 5/2/2016)
Police Using Planes Equipped with Dirtbox to Spy on your Cell Phones: California Police Using Planes Equipped with Dirtbox to Spy on your Cell Phones The Anaheim Police Department of California Home of Disneyland admitted that they used special Cell Phone surveillance technology, known as DirtBox, mounted on aircraft to track millions of mobile users activities. (Swati Khandelwal - The Hacker News - 29/1/2016)
City cops in Disneyland's backyard have had "stingray on steroids" for years: Pentagon: DRTBox can usually nab phone's crypto session keys in under a second. (Cyrus Farivar - ArsTechnica - 28/1/2016)
California Legislator Says Encryption 'Threatens Our Freedoms' Calls For Ban On Encrypted Cell Phones. (TechDirt - Tim Cushing - 22/1/2016)
City to Track Hundreds of Thousands of Cellphones During Super Bowl Week. (Carly Hoilman - The Blaze - 21/1/2016)
New York bill would ban strong encryption, mandate backdoors in all devices. (ExtremeTech - 2016)
Low-cost IMSI catcher for 4G/LTE networks tracks phones' precise locations: $1,400 device can track users for days with little indication anything is amiss. (Dan Goodin - ArsTechnica - 28/10/2015)
Siri is always listening. Are you OK with that? (Lisa Eadicicco - BusinessInsdier - 9/9/2015)
Comment savoir si vous faites l'objet d'une surveillance par IMSI-Catcher? (Korben - 14/4/2015)
Que sont les IMSI-catchers, ces valises qui espionnent les téléphones portables ?: Le projet de loi sur le renseignement veut légaliser l'utilisation par les services de ces systèmes de surveillance téléphonique. (Martin Untersinger - Le Monde - 31/3/2015)
There are secret cell towers in London that fool phones into giving up private call data? (FoxNews - 2015)
The Great SIM Heist: How Spies Stole the Keys to the Encryption Castle. (The Intercept - 2015)
The covert cellphone tracking tech the RCMP and CSIS won't talk about. (Matthew Braga - Globe and Mail - 15/9/2014)
New Eavesdropping Equipment Sucks All Data Off Your Phone. (Jeff Stein - NewsWeek - 22/6/2014)
How much privacy can smartphone owners expect? (Wheeler - BBC - 2011)