Axe Handle Steel Wire Wrap Protection.



Paul Gosselin (2016)
I use a Garant 6lb splitting axe on a regular basis (splitting about 4-6 cords of maple, ash, silver birch and some spruce each year) and even if you are careful, it is very hard to avoid wacking the handle on a piece of wood that just won't split straight. Garant provides solid handles made of ash, but they only last so long. Having recently replaced a handle on this axe with a new 36" rock maple handle I made myself, I thought why not ensure it lasts a bit longer?
I finally settled on this video which explains how to wrap the handle just below the axe head with paracord. Yup, should watch it first to understand the following...
But in my case I decided, why not give it a try with something more tougher, so I went with 3/16th inch steel wire. I followed the same procedure, though I did keep the steel wire wound pretty tight, but seeing I put the axe head in a bench vice and used a Vise-grip pliers to pull the wire end under the wrap at the end of the procedure, everything went ok, though I DID have to yank pretty hard... If you're out in the woods, perhaps sticking with paracord might be a good idea, but if you do have access to Vise-grip pliers and a solidly attached bench vice, then go for the steel wire. To estimate what length of wire to buy I did use some string to simulate my wrap, and measured that before going to the hardware store.
Just to avoid the wire end from fraying and ending up with my hands getting poked with sharp strands of steel wire, before beginning the wrap, I ensured one end of the wire was VERY cleanly cut (hardware stores aren't always very careful about this) and put soldering on it to ensure it did not fray. So I used the unsoldered end first (for the loop), and had the soldered end drawn through under the wrap at the very end of the procedure. Like in the video, I began the wrap nearest to the axe head. Just before laying down the very last strand of wire (and then drawing it under) I did use a small round file to file in a small bump in the wood at the top of the handle (farthest away from the axe edge) to ensure the wire did not wander down the handle but stayed put. In the photo below, that's to the right, just under the last strand of steel wire.
Here's the (very clean) result: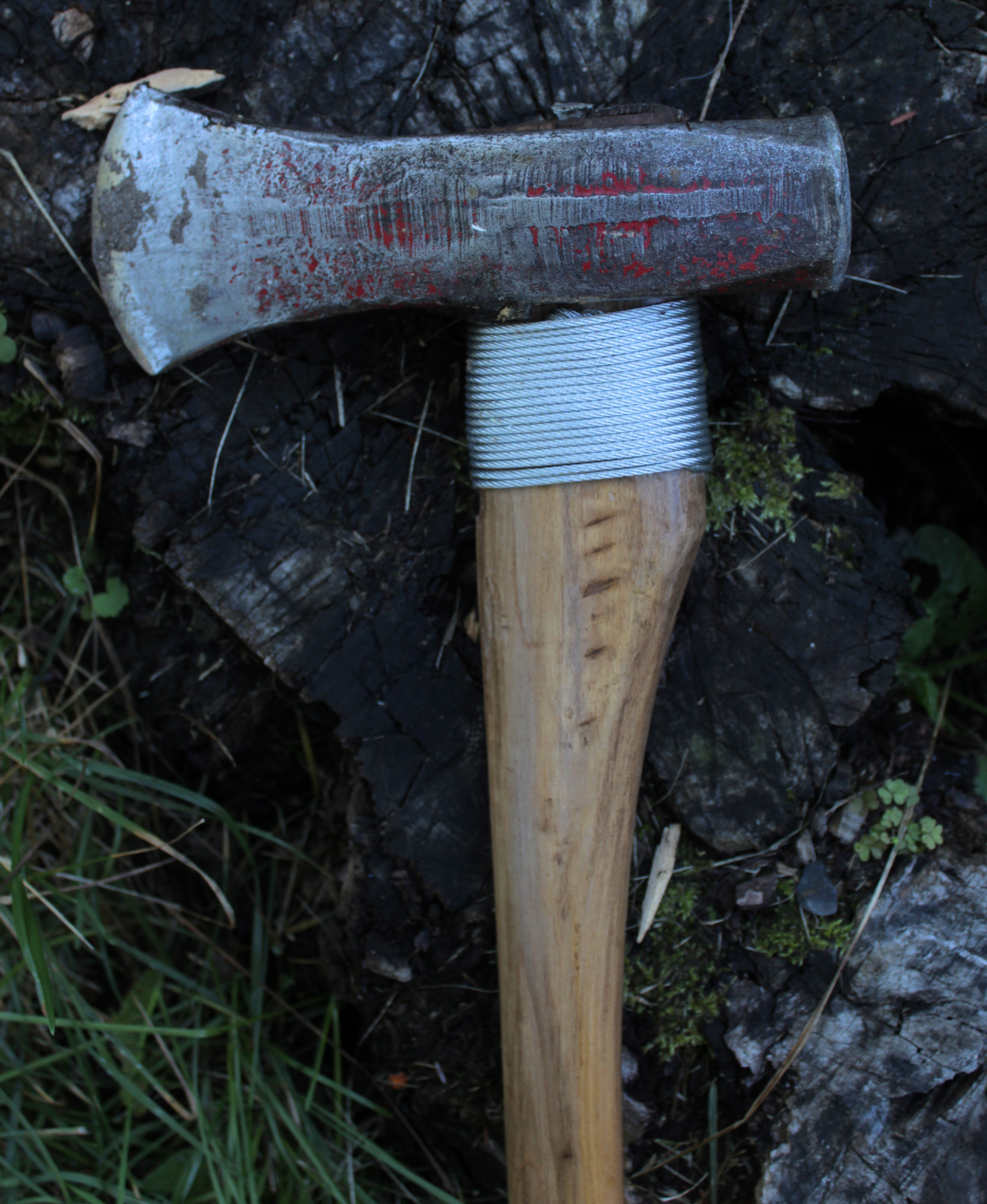 I have used the axe for a couple of hours since putting on the steel wire wrap (my firewood is done for the year) so this particular axe handle has not seen much use yet, but the wire wrap has already shrugged off one or two bumps on the handle so far. Time will tell. If I had to do it over, I think it would have been nice to add about a half inch to the wrap, but I can live with this. The wire of course adds a bit of weight to the axe, but I'm quite happy with that. As an aside, before doing the wire wrap, but just after installing the new axe handle on the axe head, I tried a trick I'd heard of to insure the axe head did not become loose even after all the wedges were driven in. The trick is, AFTER the handle and wedges have been installed, to soak the axe head (and handle end) overnight in an inch of used engine oil and let the wood swell up. Water will do the same, but will evaporate away and the oil won't hurt the axe head neither...
By the way, the pattern for my 36 inch axe handle (I like'm long...) is available below, with instructions in French and English. The pattern can be printed up (NO resizing), traced to a 1" board and cut up with a band saw or jigsaw, then shaped with drawshave. I used sugar maple, but when hit real hard it does ring in your hand a bit more than ash would. Oh well. But then again, sugar maple is a bit tougher than ash... If you do make your own handle, be sure to avoid any knots in the wood. A knot is inevitablty a weak point in the wood and likely to make your handle last only half as long...
36 inch splitting axe handle pattern (PDF)
32 inch axe handle pattern (PDF)


---

FAIL (two weeks later)
Well unfortunately my world-changing experiment failed. Yesterday as I was splitting more wood, the whole wire wrap unravelled and came off.
I guess it works ok with paracord as paracord is a bit elastic and isn't too slippery. While steel wire is VERY tough (and can take a beating), it isn't elastic and it's surface is VERY slippery... It unravels pretty easily...
I suppose a steel wire wrap on an axe handle could sttil work with some sort of fastener to keep everything in place but then the fastener itself becomes a problem. It's basically a chunk of metal that you can catch your hand on... Hard to avoid that...
Oh well... I have heard a 3 inch length of rubber bicycle inner tube, slipped over the handle, will do a good job of protecting the axe handle (and is easy to install), maybe I'll try that... I'd be surprised if it's as tough as steel wire, but time will tell...
Well I did get around to putting on the rubber bicycle inner tube over the handle. It was a bit of a struggle to get it on and, to get it this close to the axe head, I had to "rub" it down (as opposed to grabbing the edge of the tube and "pulliing" it down). Time will tell if the bicycle inner tube will be able to take any serious hits without falling apart...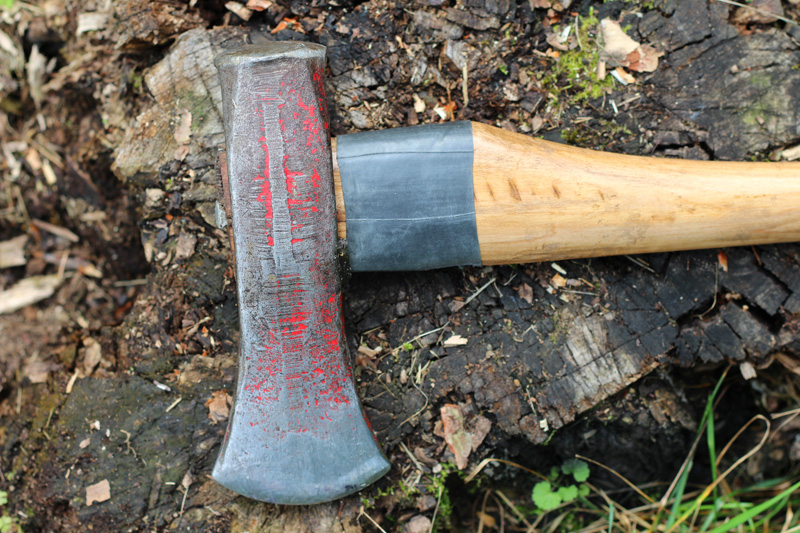 FAIL #2
Well unfortunately my second world-changing experiment failed as well. After just one afternoon's serious use, just one wack on the handle caused the thin inner tube to split. Yup, a thin rubber inner tube stretched over a hardwood handle ain't much protection at all... Now if only I could get that steel wire to STAY where it's supposed to and NOT have to use some lumpy fastener to do so...
Being stuck with an unprotected axe handle (and being unable to figure out how to get the steel wire wrap to STAY on the handle), I needed a quick and easy solution. Here it is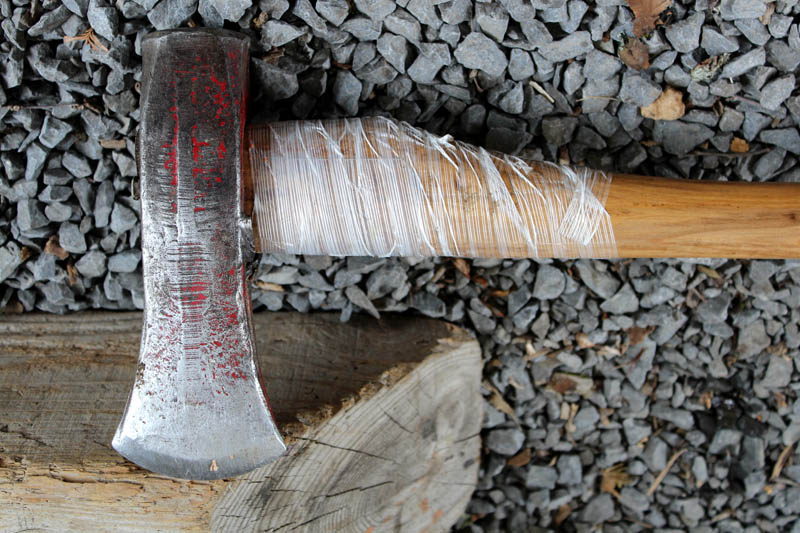 Yes, this is the pop-bottle axe handle protector.
"So where's the pop-bottle?" you ask. Well, under the fiberglass tape you see, there is piece of transparent plastic I cut out of a 1l Pepsi bottle. You could of course cut a section out of a 2l Pepsi bottle. That would probably be even tougher... Pop bottles are pretty strong. Heck, stick a 2l Pepsi bottle full of water in a freezer til it's hard as rock and it still won't bust, though most other plastics in the same circumstances would be ripped apart.
So here, basically I cut out a section of plastic from the Pepsi bottle that was about 8X4 inches. I cut it out from the pipe-shaped middle section of the bottle. You don't want to try to fit chunky plastic from the base of the bottle on your axe handle. You need a flat section. Notice that near where your hands will be working (away from the axe head) I've cut the top part of the plastic at a 45 degree angle so it has less chance of catching on your hands as you use the axe. The fiberglass tape is strong (and has to be wound on tight to avoid anything that would catch on your hand) but won't take much abrasion. The The fiberglass tape WILL protect the axe handle from splitting should it be subjected to unusual stress. So the pop-bottle plastic protects the axe handle and so far I'm quite satisfied, though I'm pretty much done with splitting firewood for this season. The REAL advantage with this solution is that the material used is easy to get your hands on and easy to apply. No fuss....
Yeah, I know, I know... The fiberglass tape was put on sloppily... I was in a hurry... I know...
In any case, I've been using this pop-bottle axe handle protector for a few years now and it really works. Pop-bottle plastic is QUITE tough. It can take the hard knocks.
---